Cassandra Kircher's book, Far Flung: Improvisations on National Parks, Driving to Russia, Not Marrying a Ranger, the Language of Heartbreak, and Other Natural Disasters, was published in 2019 with West Virginia University Press. Her essays have been named notable in Best American essays and nominated for a Pushcart Prize. She received first place in Flyway's Notes in the Field Contest.
Kircher's essays appear in North Dakota Quarterly, South Dakota Review, Cold Mountain Review, Apalachee Review, Razor and others, including Permanent Vacations: Twenty Writers on Work and Life in Our National Parks.
Her reviews and critical work on the essay appear in Fourth Genre, Brevity, ISLE: Literary Studies in Literature and the Environment, the AWP Writers' Chronicle, Ecofeminist Literary Criticism: Theory, Interpretation, Pedagogy, The Journal of the Southwestern American Literature, Essay Daily, and others.
In her twenties, she worked seven seasons in Colorado's Rocky Mountain National Park and was the first woman stationed in the backcountry of the North Fork Subdistrict. She teaches writing at Elon University and writing classes to children in public schools during the COVID pandemic.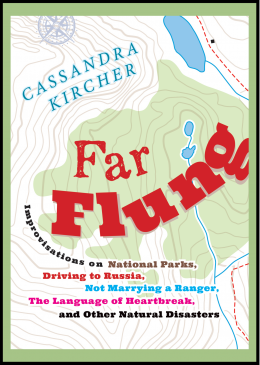 Finalist for Non-Fiction Narrative in the 2019 Best Book Awards Sponsored by American Book Fest
Far Flung: A young park ranger coming to terms with her adoration for the wilds of the West and longing to understand herself and her relationships to the places and people she loves most.